Ciao e benvenuti nel sito dell'unico allevamento di Australian Kelpie (Pastore Australiano Kelpie) in Italia. Mi chiamo Maria e vivo in Toscana, sui monti pisani, a Vorno, in provincia di Lucca. Dal podere dove abito, chiamato da sempre il "Comunale", situato a 200 metri d'altezza, godo di una straordinaria vista panoramica su tutta la piana di Lucca fino a scorgere all'orizzonte l'Abetone e le Alpi Apuane.

Ho da sempre amato gli animali, soprattutto i cani. Ho avuto sia meticci che alcune razze, ma ho scelto di allevare gli Australian Kelpie, poiché affascinata dalla loro grande intelligenza ed equilibrio e dalla loro capacità di entrare in sintonia con me sia nel gioco che nei momenti di lavoro.

Il mio primo incontro con i kelpie è stato presso l'Allevamento di Cambiano dal quale ho preso Kela, Coorain di Cambiano, e da quel momento mi sono profondamente innamorata di questa razza. Nel momento in cui ho deciso di iniziare ad allevare ho cercato altri allevamenti in Italia, ma non ne ho trovati. Allargando la ricerca all'Europa ho trovato in Svezia l'allevamento Evallens, dal quale ho preso Sandy, Evallens Red & Tan Sandy.

Lo scorso anno con grande gioia la Sandy mi ha regalato l'esperienza della mia prima cucciolata dalla quale sono nati nove bellissimi cuccioli.

Spero che attraverso questo sito possiate incuriosirvi di questa razza e magari innamorarvene.
Maria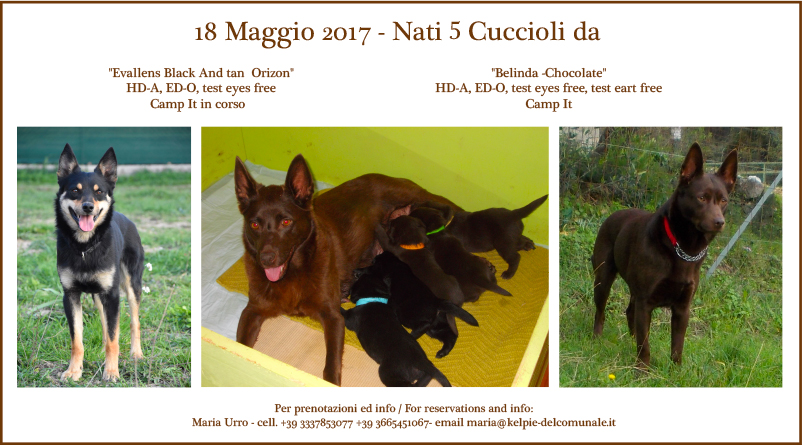 Sito aggiornato al - Last Update 26/06/2017

Hello and welcome to the first site of  breeding Australian Kelpie (Kelpie Australian Shepherd) in Italy. My name is Maria and I live in Tuscany, on the Pisa's mountains, in Vorno, Lucca.  From the farm where I live, called the "Comunale", located 200 meters high, I enjoy breathtaking panoramic views across the plain of Lucca .I can  see  the Abetone's mountains and the Apuan Alps.
I have always loved animals, especially dogs. I had both mestizos that some breeds, but I chose to raise the Australian Kelpie, as fascinated by their intelligence and balance and their ability to empathize with me be in the game that at times of work.
My first meeting with the kelpies was at the Raising of Cambiano from which I took Kela, Coorain  of Cambiano and from that moment, I am deeply in love with this breed.  The moment I decided to start breeding I have looked for other farms in Italy, but it was unsuccessful. Widening the search to Europe I found in Sweden breeding Evallens, from which I took Sandy, Evallens Red & Tan Sandy.
Last year with great joy Sandy gave me the experience of my first litter from which they were born nine beautiful puppies.
I hope that through this site might have gotten curious of this race and maybe fall in love.
Maria

Wilkommen in dem einzigen Website von Australian Kelpie in Italien! Mein Name ist  Maria und ich lebe in Vorno (LU), in Toskana, auf den Monti Pisani. Das Landgut, wo ich lebe, ist seit jeher il "Comunale" gehieþt und er liegt auf ca. 200 Meter Höhe; von oben sehe ich einen wunderbaren Rundblick, weil man das ganzen Lucca sieht und Abetone und Alpi Apuane bemerkt.
Seit jeher habe ich die Tiere geliebt, besonders die Hunde. Ich habe sowohl Mischlingen als auch Rassehunde gehabt, aber ich habe entschiedet, die Australian Kelpie zu züchten, weil ich fasziniert von ihren  Intelligenz und Gleichgewicht bin. Sie fühlen  in Einklang mit mir sowohl während des Spiels als auch des Arbeits.
Meine erste Begegnung mit den Kelpie war bei der Zucht von Cambiano, wo ich Kela( Coorain di Cambiano) genommen habe und seit denn bin ich in ihnen verliebt.
Wenn ich die Kelpie zu züchten entschiedet habe, habe ich andere Zuchten in Italien gesucht, aber ich habe keine gefunden. So habe ich jenseits des Europas gesucht und endlich habe ich die Zucht Evallens in dem Schweden, in dem habe ich Sandy, Evallens Red und Tan Sandy genommen.
Vor einem Jahr  hat  Sandy ihre ersten neun Welpen gehabt .
Ich hoffe, dass ihr durch diesem Website in dieser Rasse verlieben könnt.
Maria

Bonjour et bienvenue sur le premier site de l'élevage  Australien Kelpie (Kelpie Australian Shepherd) en Italie. Mon nom est Maria et j'habite en Toscane, sur les collines de Pisa à Vorno, dans la province de Lucca. De la ferme où j'habite, a toujours appelé la «Comunale», situé à 200 mètres de haut, je jouis de spectaculaires vues panoramiques sur la plaine de Lucques, de voir l'horizon de l'Abetone et les Alpes Apuanes.

J'ai toujours aimé les animaux, surtout les chiens. J'avais les deux métis que certaines races, mais j'ai choisi de relever le Kelpie australien, comme fasciné par leur intelligence et leur équilibre et leur capacité d'empathie avec moi d'être dans le jeu qui en temps de travail.

Ma première rencontre avec le Kelpie est à la levée du Cambiano d'où j'ai pris Kela, Coorain de Cambiano, et dès ce moment, je suis profondément en amour avec cette race. Le moment où j'ai décidé de commencer l'élevage, j'ai essayé d'autres fermes en Italie, mais en vain. Élargir la recherche en Europe, j'ai trouvé en Suède Evallens de reproduction, d'où j'ai pris Sandy, Evallens Red & Tan Sandy.

L'an dernier, avec une grande joie le Sandy m'a donné l'expérience de ma première litiére, neuf beaux petits chiots.

J'espère que grâce à ce site vous pourrait avoir obtenu curieux de cette course et peut-être tomber en amour
Maria